Perspectives
We have just finished figuring out how the DGT GTD is going to help with our day-to-day workflow, so that we can gain good control of our commitments. Apart from control, GTD is also about perspective: the direction where we look for things to get done, or put it another way, our long term focus, goals and values. David Allen described 6 levels of perspectives that we want to have at least some understanding. From bottom up, we have these:
Action level: What we need to do now?
Project level: What we need to complete?
Area of focus and responsibility level: What we need to maintain?
Goal level: What we want to achieve (in 1-2 year time scale)?
Vision level: What long term success looks like?
Value level: What is important in our life?
I find even a brief thinking of any level above the goal level hard. DGT GTD gives a little bit of help if we want to figure them out bottom-up, by finding out why we want to do each task we have.
DGT GTD Goals
The DGT GTD app allows us to define goals from the main screen, by sliding to the screen on the right.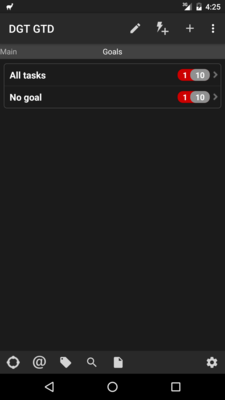 There is no goal defined yet. We can define ours with the Edit button in the top banner and tap on New goal, just like the way we create new contexts. After we give a title of the goal, there is one attribute we can set: the duration of the goal.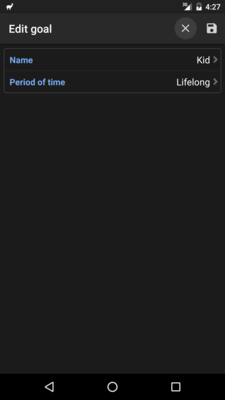 There are three possibilities...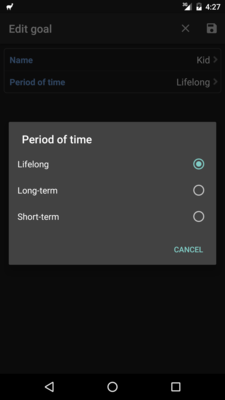 They map approximately to the vision level, the goals level and the focus and responsibility level. A lower level (closer to actions) can be made to contribute to a higher level: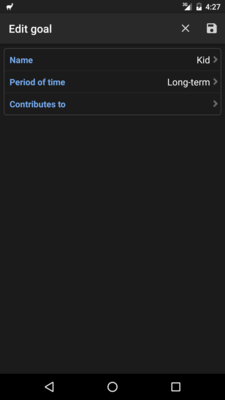 Saving it we see our new goal.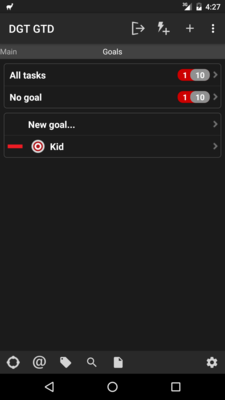 So we end up having a "tree" of goals, where we can assign our tasks to. Unluckily, DGT does not provide a quick view of this tree.
What is the use of this tree? In fact, not much. We can now list all our tasks which have no goal, and start assigning them to goals. This allows us to identify goals which we have overlooked. Once we have emptied that list, we should have gained a certain understanding of our focus and responsibilities. Working up we know our goals and vision.
There is no need to assign a goal every time you create or process a task. The information is not needed that often. Because focus and responsibility need not be reviewed more than twice a year, most of our efforts would not be examined even once. Instead, just do the above exercise whenever we need a clear understanding of our life.